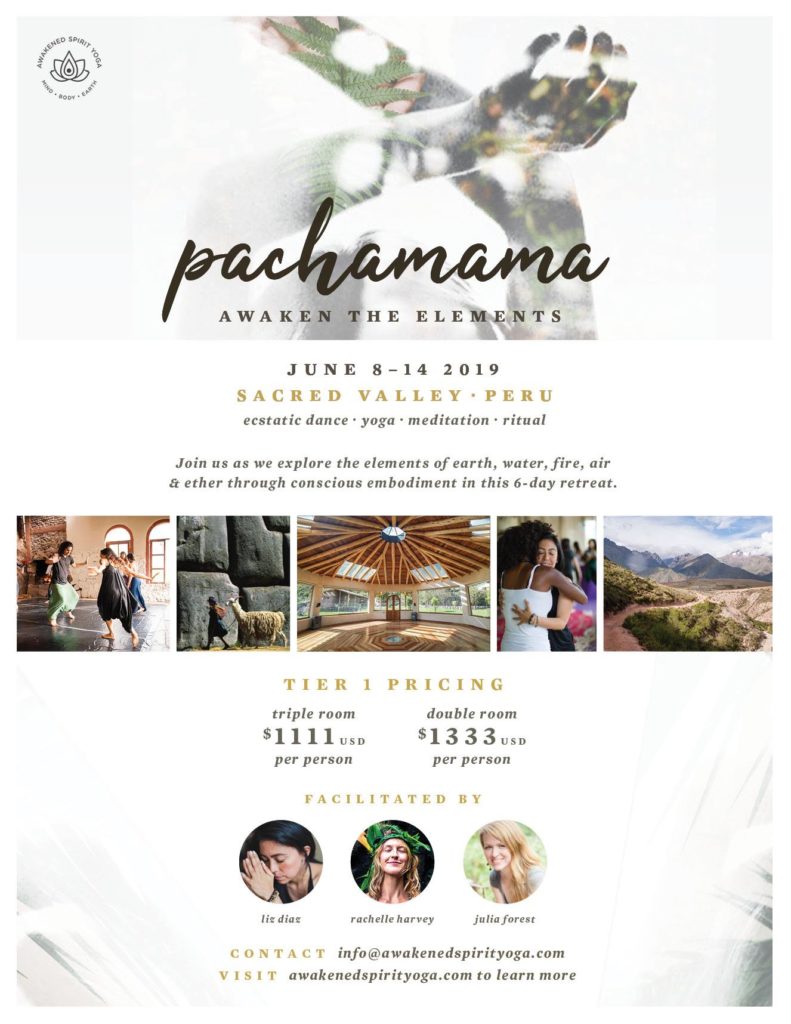 Pachamama ~ Awaken the Elements
ecstatic dance + yoga + meditation + ritual
In the heart of the Sacred Valley, surrounded by ancient Inca sites and the Andes mountains, dive deep into the wisdom of your own body, remembering, reclaiming and recalibrating it's expression as a pathway to bliss.
Join us as we explore the elements of earth, water, fire, air & ether through conscious embodiment. In our 6 days together we will utilize dance, yoga, meditation, expressive art, eco-therapy and ritual practices to allow a process of inner alchemy to take place.
The Andean Medicine Wheel, the 'Chakana' which is the foundation of Andean Cosmology, will act as an anchor on our journey, reminding us of the interconnected and sacred nature of all things as we explore our creative capacity!
In this retreat you will:
• Explore dance as a healing and therapeutic practice
• Nurture and bring ritual into your daily life
• Connect with sacred sites and ceremonies
• Be nourished by 3 local, organic meals each day
• Rediscover the creative expression of your body
• Release what no longer serves and create space for more ease, grace and flow in your life
Training Faculty
Liz Diaz
Rachelle Harvey
Julia Forest
limited spaces are available in each pricing tier
Price includes 6 days of retreat activities, accommodation & 3 organic vegetarian meals per day.CLAIM YOUR SPOT HERE